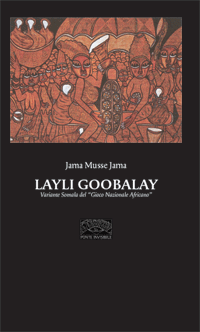 Jama Musse Jama Layli Goobalay: Variante Somala del "Gioco Nazionale Africano". Ponte Invisibile Edizioni, Pisa, 2002, ISBN 88-88934-00-6

Language: Italian

Layli Goobalay, literally meaning "exercise with circles" in the Somali language, is the Somaliand Variant of the classical Count and Cupture board gamaes. This family of games, which slightly differ in the playing rules from game to game, but share the object and in the moves, is also known as "African National Game".

This book is for all those who wish to approach through a game to the Culture of great people, that is of Africa, but it also for all those somaliland origin childs, being born in the Western world, will have dificulties to know about their culture of origin.